Unlock
your MSP's expertise with the power of service collaboration

💥
IT Glue x Thread helps MSP service teams resolve tickets up to 40% faster by surfacing the right knowledge exactly when and where they need it.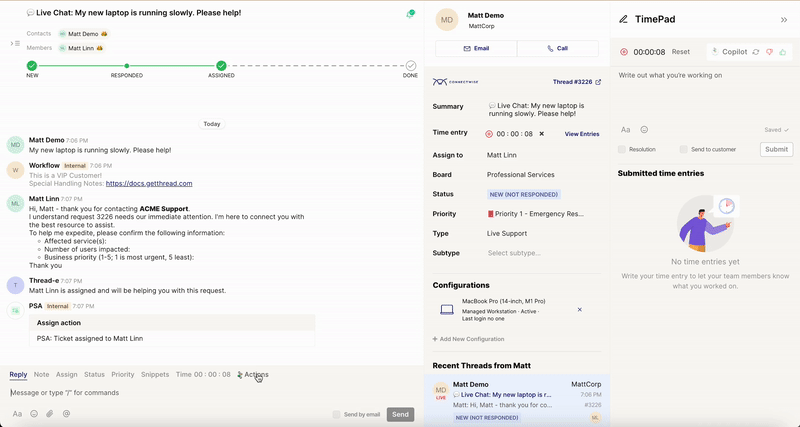 Faster access to information:

With Thread x IT Glue, IT technicians can quickly search and retrieve information from the knowledge base without having to navigate through documentation manually.

Streamlined user support: CoPilot automates manual but critical actions--like time entry--allowing your best technicians to focus on more complex issues. More capacity means faster to-user response times, which improves overall customer satisfaction.
Improved collaboration: Thread connects IT technicians with relevant experts within the organization to collaborate on solving complex problems more efficiently.

Reduced human error: Thread makes it easier for users to get help when they need it by meeting them where they work. Thread x IT Glue further accelerates their service experience by minimizing the risk of human errors in problem-solving. Co-Pilot suggests possible assets to the user during help request creation, providing better baseline information before the request even gets to your team.

Personalized support experiences: Thread can recognize individual IT technicians' expertise and preferences, adapting its assistance to better suit their specific needs and working styles.

Use IT Glue in Microsoft Teams

Use IT Glue in Rocket Chat